Loyalty Program
The best out-of-the-box customer loyalty software for your rewards program.
Watch

the

video
Everything you need in a loyalty rewards program
Bring back customers with a customisable loyalty and rewards program, designed for your stores.
Create & manage your loyalty point structure
Set how many loyalty points you'd like to issue to customers. Incentivise based on amount spent or for visitation and check-in.
Customise your rewards program
Define which rewards your customers unlock at point levels. Change rewards based on real-time customer feedback.
Replace paper loyalty cards
Save money on card printed loyalty cards. Goody is a better way for customers to carry all their loyalty cards and have the choice of app or card.
Track & reconcile points
Manage complex franchise or multi-store situations where point tracking and reconciling is required for audits.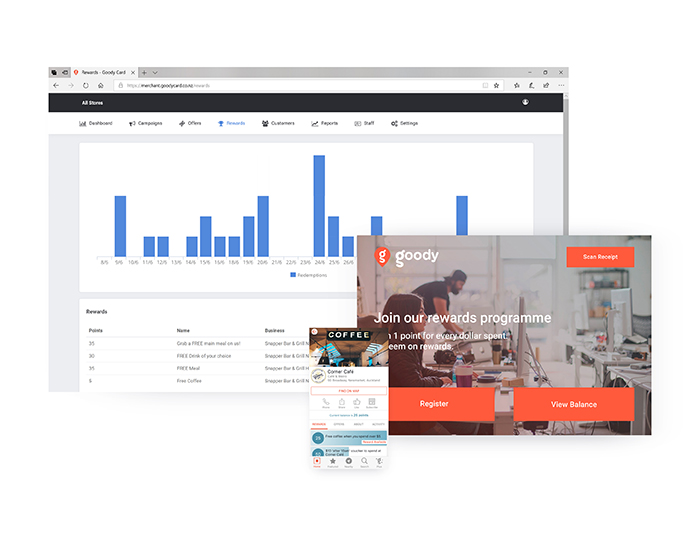 How it works
Your customer signs up to your loyalty program. They earn points by visiting and making a purchase. Once they unlock a reward, Goody automatically lets them know to visit your store and collect their reward.
Customers scan on the tablet and redeem their reward. Your staff hand over the reward and points are deducted from their account.
It's like a traditional coffee card – except it's completely digital and fully transparent.
Get insights into your most loyal customers
Goody's loyalty & rewards program ensures you reward your most valuable customers and helps identify any improvements.
Drive more customer visits
Set how many loyalty points you'd like to issue to customers. Incentive based on dollars spent or check-in.
Increase your customer retention rate
Measure your customer retention rates and understand exactly why customers aren't returning. Change your rewards program at any time, to suit your customers.
Increase customer spend
Reward customers by dollars spent or for simply visiting. Gain further opportunities to upsell and reward them for their loyalty.
Create and retain loyal customers
Acquire new customers and deliver an automated retention program to create loyal customers.
Get started today!
Whether you're looking to promote your local business, reward your regulars or connect with customers, Goody can help.
Watch

the

video