Rewards Program
The best out-of-the-box engagement software for your rewards program.
Watch

the

video
Everything you need to run your rewards program
Bring back customers with a customisable loyalty and rewards program, designed for your stores.
Create & manage your rewards program
Set how many reward points are issued to customers. Incentivise based on dollars spent, visitation or check-in.
Customise your rewards program
Issue rewards at certain points levels. Change your rewards program and structure based on real-time customer feedback.
Replace your paper reward cards
Save time and money on printing paper reward cards. Customers can choose to either use the Goody app, use a universal card or check in with email.
Reconcile and track reward points
Manage complex multi-site, franchise or national chain situations, where reward point tracking and reconciliation is required for audits.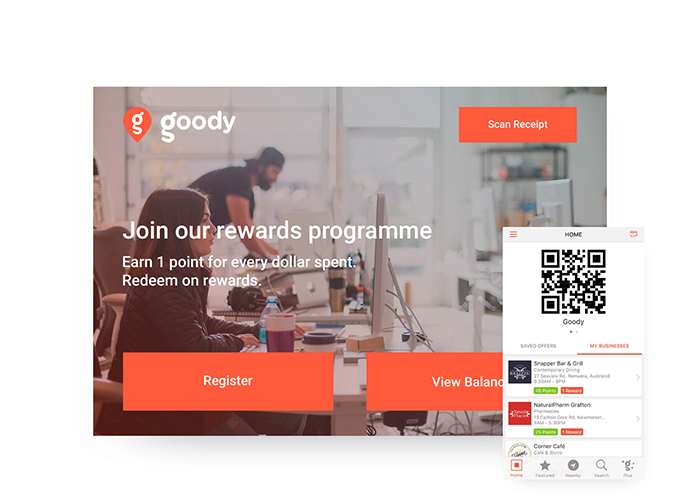 How it works
Your customer walks in and signs up for your rewards program. They can earn reward points by visiting you or making a purchase. When they've earned enough points, they'll unlock a reward. The software automatically notifies the customer to visit your store and collect their reward.
Members can either scan on the tablet using a stand-alone system or you can use our integrations to suit your requirements.
Powerful insights from your most loyal customers
Goody's rewards program ensures you incentivise your most valuable customers and helps identify any improvements.
Increase your customer visits
Set how many reward points you'd like to issue to customers. Incentivise based on dollars spent, check-in or nights stayed.
Retain more customers
Understand exactly why your customers are not returning and measure your retention rates. Change your rewards program at any time to suit your customers.
Increase loyalty member spend
Incentivise customers by dollars spent, visitation or patronage. Reward customers accordingly and gain further opportunities to upsell and reward them for their loyalty.
Engage and retain loyal customers
Promote your rewards program to an entirely new set of network members and deliver an automated retention program.
Get started today!
Whether you're looking to promote your local business, reward your regulars or connect with customers, Goody can help.
Watch

the

video